Julian's Chile Caballo (Chile Rocoto)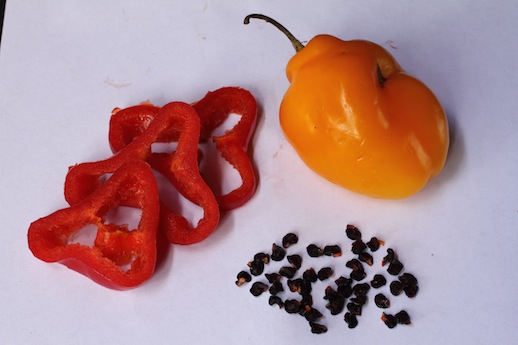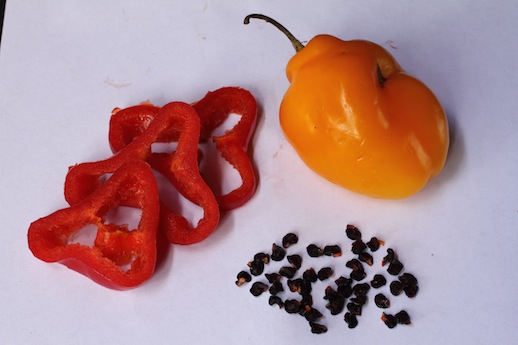 Julian's Chile Caballo (Chile Rocoto)
(Capsicum pubescens):
Guatemalan farmer Julian Vaszuez Chun travels to remote parts of Guatemala searching for rare and interesting seeds. He found this chile growing in a remote village of Cubulco. This is a very rare chile. It can withstand cooler temperatures than most chiles, but not frost. In temperate climates, the plant can live up to four years reaching heights of four meters. This has earned it the nickname; tree chile. This unique chile has dark black seeds and produces red, yellow and orange chiles!
It is a very hot pepper, but if you are careful when you cut it, and cut it long ways, at a bit of an angle, the pepper is actually sweet, and can be eaten raw. I tried this and it worked! Can be roasted or stuffed. To reduce heat, cut into pieces and mix with cabbage then add lemon juice, vinegar, or hot water to drain out some of the heat.
Epic origin — grown by : Irma Yolanda Alonzo, Guatemala
Planting Instructions: Chile Rocoto is a two-year project, as this long lived pepper plant will not fruit extensively the first season. In temperate climates it is best grown in a 5 gallon pot, then moved indoors to a sunny location for the winter. It does well in cooler climates but will not tolerate freezing temperatures. Chile Rocoto can take longer than a typical pepper to germinate, 20 days or more is not uncommon. As with other chiles, a warm, moist soil is required for germination. Sow shallowly in cells or small pots 8 weeks before your last expected frost date. Use a heating pad or sunny window to maintain warmth. After your pepper has germinated and put on its first true leaves you can transplant to your pot or garden after all danger of frost. You can expect fruit the second year of growth.